22mm Front Axle Removal Tool
by Marc Parnes Products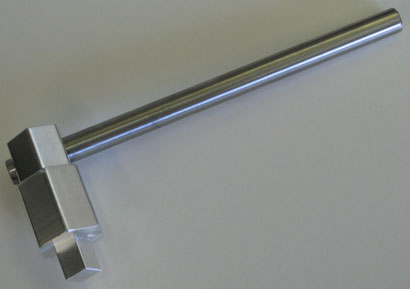 Many modern motorcycles have a 22mm internal hex front axle including BMW, Kawasaki and Triumph models. Being such an unusual size creates a problem for the owner when it comes time to remove the wheel without a special tool. It makes it even more difficult to torque the axle properly in the shop. More importantly, if the need arises to remove the wheel out on the road a real challenge presents itself.

The tool pictured above is specifically designed as a shop tool as well as a rescue tool. It is 22mm on one end which mates with the front axle and 19mm or ¾" on the other end which can be used with a socket or box end wrench in the shop. As an added feature it comes with a stainless steel 6" breaker bar so it can be used in an emergency out on the road. The 22mm end is also equipped with a 3/8" square drive which can be used with a 3/8" socket to loosen the front axle pinch bolt and caliper bolts so the wheel can be removed.

The body is machined from 7075-T6 aluminum billet which has twice the yield strength of the more common 6061-T6 aluminum

It's easily carried on board weighing less than 5 ounces complete with breaker bar.

Watch the drive portion of the tool being machined. Part 1 Part 2







Using the Front Axle Removal Tool
When using the tool with the breaker bar please make sure the bar is fully through the tool so it can't slip out in use. In the shop you can use either a 19mm or ¾" socket. A 12 point socket will work but a 6 point will extend the tool's life. The 3/8" square drive is for emergency use and has been tested up to the torque needed to loosen properly tightened Paralever rear wheel bolts. Care should be exercised when using the 3/8" drive not to over torque it or it will shear off. The 3/8" drive is not equipped with a spring loaded socket retention ball like a regular ratchet has so please use it accordingly.

If you prefer other means of payment besides PayPal please call (714) 842-9210.

PayPal has simplified their process. New PayPal users are no longer required to open a PayPal account. You simply input your credit card information. When you're finished you will be given the option to save your information on PayPal or not. That's all there is to it!

When purchasing through PayPal please make sure that the email address you're entering is correct since we will be emailing you a shipping confirmation. We get many of them bounced back because they are incorrect or obsolete. If you are a current PayPal member you can update your email address by going to your PayPal account and clicking on the Profile tab and then the Email tab.
The Famous "Shipping and Handling" Game
We don't play the Shipping and Handling game. Most sites these days advertise one price and then get you with an excessive shipping and add-on handling charge during the checkout procedure. They figure if you've gotten that far you'll probably just go for it. We think that's sneaky business so all of our prices include shipping right to your door.
International Customers other than Canada Please Note
We ship outside of the US via International First Class Mail with insurance. In the case of loss or damage the insurer requires that we inform them of the loss within 90 days. They also require us to wait 45 days before making an international claim and 60 days when the loss occurs in Italy. In addition they do not insure shipments to the following countries so we will not accept orders from these countries as well. They are: Afghanistan, Angola, Belarus, Bolivia, Bosnia, Bulgaria, Burma, Congo, Cote d Ivoire, Ivory Coast, Croatia, Cuba, Greece, Guinea, Herzegovina, Iran, Iraq, Kosovo, Lebanon, Liberia, Macedonia, Montenegro, Nigeria, North Korea, Paraguay, Serbia, Somalia, Sudan, Syria, Zimbabwe
International Currency Converter
Axle Tool including postage to the USA $25. Please include bike year/model in the box to the right.
Axle Tool including postage outside of the USA $35. Please include bike year/model in the box to the right.

In a rush? Priority Mail Upgrade for the USA ONLY. Features 2-3 day delivery $5.