BMW Coil-Over Spark Plug Cap Removal Tool
by Marc Parnes Products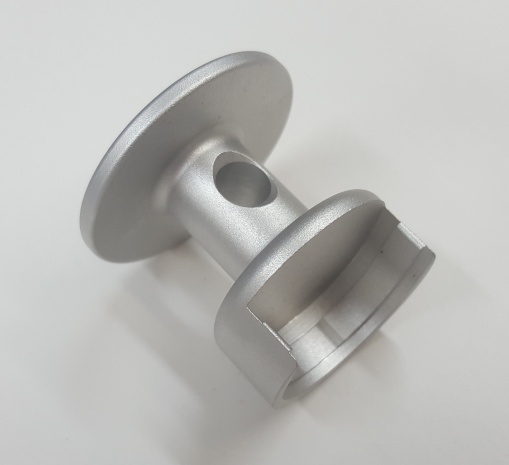 This tool makes it a snap to remove the spark plug cap/coil on R, F, G and K Series (4 cyliner) coil-over bikes. The factory supplied plastic tool slips off the cap easily and is prone to breakage. Our tool is CNC machined from aluminum and will not damage the cap or wear out. It is small enough to carry in your tool roll measuring just 1 ½" by 1 ½" with a weight of 1 ounce. It fits the following models:

All R1150 from Dec 2002 production with 2-Spark heads.
R1200C, R1200C I/M, R1200 Montauk from October 2002 production
All R1200/1250 from model year 2003 and newer including the new LC models and RNineT
R1100S from December 2002 production
All F Twins
All G Thumpers
All new style K1200/1300
All S1000R, S1000RR, S1000XR (barely - there isn't much room in there)
On the K1600 there are two plugs that are very hard to get to without the BMW shop tool. It can be done but it isn't easy!

Using the Spark Plug Cap Removal Tool

If you look closely at the plug cap you'll notice a groove near the top. This groove is provided as a means to grasp the cap so it can be pulled off of the spark plug. The removal tool is designed to slip onto the cap from the front. There is a relief at the back of the tool that engages with the corresponding raised locator at the front of the cap. Once it is fully seated on the cap grasp it and pull firmly and evenly. Do not give it a hard tug as you may pull the tool loose damaging the top of the cap. Slow and steady works better and is safer. For very difficult to remove caps the tool is equipped with a 1/4" through hole. A thin screwdriver can be slipped through the tool and with your fingers between the screwdriver and the valve cover you can easily pry the cap loose.

If you run into one that is extremely difficult to remove do not keep trying or you might break the top lip of the cap off. You will need to lubricate the rubber seal where it comes into contact with the bore of the valve cover. If you haven't seen this seal exposed, it is one piece with 3 integral "O" rings that seal against the valve cover. To facilitate removal you'll need to lubricate the seal with silicone spray or WD40. Before spraying in lubricant I slip a jeweler's screwdriver between the seal and the valve cover in order to open a pathway for the spray to reach the "O" rings. Once the seal is lubricated the plug cap should pull off easily. If you used WD40 as a lubricant be sure to clean it off of the rubber seal.

Lubricating the seal with silicone lubricant before re-installing the plug cap will insure that it comes out easily the next time. Do not use petroleum based grease as it attacks rubber seals. Make sure that when you replace the cap you push it all the way down so it is fully seated on the spark plug.

BMW Front Axle Removal Tool
Our 22 mm Front Axle Removal Tool for All '05-'12 R1200 (except R1200C), '05 and later K1200, K1300, K1600 and some F800 works in the shop as well as on the road. It features a 19mm or ¾" hex head so you an use a socket or box end wrench, a 6" breaker bar for those times when you need to remove your wheel while on the road and a 3/8" square drive for a socket to remove the calipers and pinch bolts. If you would like one please place your order on the Order Form below. For more pictures and information please visit the Front Axle Tool page.

If you have any questions or comments please email marcparnesproducts@gmail.com.
| | |
| --- | --- |
| | Purchase with any major credit card through PayPal! |

If you prefer other means of payment besides PayPal please call (714) 842-9210.

PayPal has simplified their process. New PayPal users are no longer required to open a PayPal account. You simply input your credit card information. When you're finished you will be given the option to save your information on PayPal or not. That's all there is to it!

When purchasing through PayPal please make sure that the email address you're entering is correct since we will be emailing you a shipping confirmation. We get many of them bounced back because they are incorrect or obsolete. If you are a current PayPal member you can update your email address by going to your PayPal account and clicking on the Profile tab and then the Email tab.
The Famous "Shipping and Handling" Game
We don't play the Shipping and Handling game. Most sites these days advertise one price and then get you with an excessive shipping and add-on handling charge during the checkout procedure. They figure if you've gotten that far you'll probably just go for it. We think that's sneaky business so all of our prices include shipping right to your door.
International Customers Other Than Canada Please Note
We ship outside of the US via International First Class Mail with insurance. In the case of loss or damage the insurer requires that we inform them of the loss within 90 days. They also require us to wait 45 days before making an international claim and 60 days when the loss occurs in Italy. In addition they do not insure shipments to the following countries so we will not accept orders from these countries as well. They are: Afghanistan, Angola, Belarus, Bolivia, Bosnia, Bulgaria, Burma, Congo, Cote d Ivoire, Ivory Coast, Croatia, Cuba, Greece, Guinea, Herzegovina, Iran, Iraq, Kosovo, Lebanon, Liberia, Macedonia, Montenegro, Nigeria, North Korea, Paraguay, Serbia, Somalia, Sudan, Syria, Zimbabwe
International Currency Converter
| | |
| --- | --- |
| Spark Plug Cap Tool including postage to the USA $25. Please include bike year/model in the box to the right. | |
| Spark Plug Cap Tool including postage outside of the USA $35. Please include bike year/model in the box to the right. | |
| Axle Tool including postage to the USA $25. Please include bike year/model in the box to the right. | |
| Axle Tool including postage outside of the USA $35. Please include bike year/model in the box to the right. | |
| In a rush? Priority Mail Upgrade for the USA ONLY. Features 2-3 day delivery $5. | |
| | |
If you prefer other means of payment besides PayPal please call (714) 842-9210.