This is my favorite page. Makes it all worthwhile
J
I hope you enjoy it.

Marc
---
This is one of my all time favorites:
Thank you Marc. This will be my 5th MP Visual Alert. I hate to think of how many speeding tickets I would have gotten without your great alert. My Dad thought the radar detector with MP alert on my bike was really smart. He would always say to me Ride Smart and most of all Ride SAFE. He died last year and to remember his advice I have his B-17 Bomber Wings mounted on your MP Alert. He earned those wings as a lead Bombardier flying 30 missions over Germany in WWII.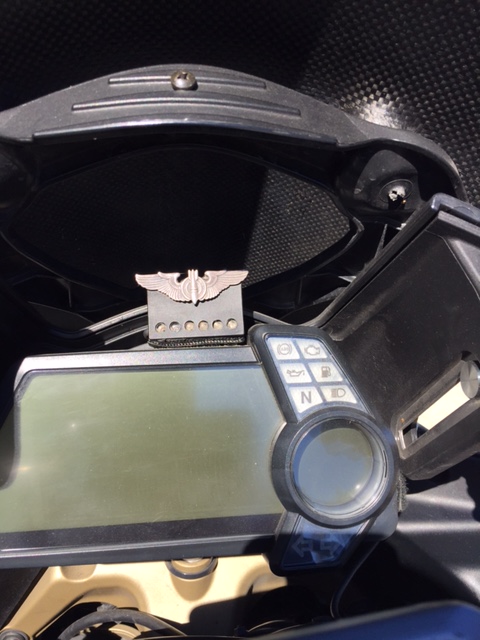 Thanks again,
Dave Blair
---
Hello Marc,
I recently purchased your BM17 balancer for my trusty old '78 BMW. I haven't done a tire change yet, however, I had both wheels off the bike to replace a seal in my final drive. I thought, the wheels are supposedly balanced, but why not check/correct what's there? So, I set up your balancer and gave it a try. First of all, the "balanced" wheels WERE NOT! I started over, and got them to zero out just perfectly. Over the weekend I took the bike out on a decent ride. I remember you saying to me on the phone, "you will be pleased with the results when you do it yourself". Well, that is very true! What a difference! On a nice lonely road I wound it up a bit to 90mph, and it was a nice as could be. Wow. I honestly wonder if it's ever been this smooth in 42 years! Crazy.

Thanks so much,
Dave E.
Texas
---
Thanks for your service and attention to detail. I am sure you get the same questions all the time but calling me within the hour of my order and explaining to me the details of the additional items I would need was amazing and very helpful. Beautifully manufactured items, fast shipping and great customer service.

Matt Phillips
---
Hi Marc;
I used the balancer on my BMW R1200RT 2016 and it's working great. I'm very please. Easy to use and to fit to the wheels. The bearings are spinning easily and smoothly. It makes balancing the wheel an easy task. It just demanding time in adding weights to the wheel in order to get the balancing right. In short it's a great addition to my tool box. Fit and finish is outstanding.

Thank you very much.
Michel Lavoie
---
Marc: Received my BML in the mail yesterday and am absolutely delighted at the beauty and simplicity of this tool. Excellent engineering and machine craftsmanship.
Best Regards,

Travis
---
Hi Marc,
I received my balancer. I am extremely impressed with the precision of the machining. I couldn't possibly be a more satisfied customer. Thank you.

All the best,

Michael
---
Marc,
I received the balancer and have used it several times already. It is incredibly sensitive, a beautiful piece of equipment, very nicely made. I'm proud to have it in my shop.
Thank you,

Dave Kendell
---
Hi Marc,
You are very honest while doing business. FAST shipping. My balancer is a joy to use and super sensitive I was down to 3 grams and it made a difference! Thank you for a great product. All the best to you.

INKMAN815
---
Hi Marc,
Your adapter just arrived for my 2016 BMW R1200 RS and it is a work of art. It fit beautifully with the middle sized spacers and I had the wheel balanced in minutes. Perfect fit and lovely engineering. Well done.

Many thanks and keep up the great work.

best regards,

Peter Connell
---
Hi Marc,
Just finished balancing my first tire using your tool , worked PERFECT. Very easy to do and worked just like it should. Thanks so much for a great tool. I will definitely talk your balancer up in the chat rooms.
Thanks,

Brian
---
Marc, I finally had the opportunity to use the wheel balancer I had ordered from you a while back and I am very pleased with the customer service you provided, and most importantly to me, the quality and function of the tool. I did not want to take up any more of my limited garage space with a bulky balancer so when I came upon your product (through a couple of forums that recommended it) I ordered one hoping it would allow me to avoid having to lug my wheels to the not-so-local bike shop. I am so impressed with the quality and fit and having used very expensive dynamic spin balancers in the past, am quite certain that I get a better balance using your product. Thank you so much!

Patrick in Massachusetts
---
Marc,
Received everything fast and in perfect condition. Easy to use the K16 kit and my K1600 GTL is riding smoother than ever. Everything is machined perfectly and fits right.
Thanks,

Jim Moats
---
The tool arrived today, as quick as it possibly could've! I couldn't be happier with the service you provided and the quality of the tool you crafted. I was able to replace both spark plugs today which saved me $150 in labor at my local dealership. Thank you so much! You're a hero to riders!

Cameron Dodge
---
I am excited about working with the quality product you make. I am an Aircraft Technician……so quality means everything to me. You have great feedback and I read through your bike and car pages on the website. Holy Cow……I am not worthy. Your site is great and well organized and you are awesome to work with. I really appreciate you and thank you for making your talents available to us all!

Toddm
---
Marc,
Your balancer is a thing of beauty. Everyone that has seen it is blown away. Best part is that it works better than it looks! I run billet valve stems on my Harley and much to my surprise when balancing the wheels with out rubber the stems were not the heavy spot. Marked my rims and lined the dots on a new pair of Metzelers with these marks. Took half of the weight as before and the bike rides amazing! Thank you for a great product and write up on balancing.

Rob Judd
---
Hi,
I received the balancer last Friday. It spent some time in our customs clearance which was expected. Balancer looks and feels awesome. Even better in real life than in pictures.

On Saturday I tried it for my Vespa wheels. My Vespa is bought this spring and it's ridden about 950km. It felt like wheels were balanced wrongly, or in a hurry at the factory. Rear wheel needed 10 gram less weight than there were at the beginning. Front wheel needed 5 gram less.

What I'm trying to say is I'm very pleased for this tool. Thanks for your cooperation.

With best regards,
Mika Ranta
Finland
---
Marc,

I'd like to say thank you for the wonderful experience I had with you. I had the wheels balanced quickly and accurately in no time. Your balancer works much better, sets up faster, and allows for a faster balance than the static balancer I got from another manufacturer. Thank you for putting out a quality product and again for the great experience.

Take care,
Phoy St. John
---
The kit arrived today. Used it for a front tire change. Awesome! Thank you.

I manage a factory that could easily make this. The main parts can be purchased from McMaster-Carr pillow-block, ground shaft and bearings. The cone and adapter are specialized pieces, not available commercially.

I chose to buy yours because I like to support small businesses and entrepreneurs. You make a great product, be thankful for your skills.

I will promote your products at every opportunity.

Eric Klock
Production Manager
---
Hi Marc,
Have received my wheel balancer thank you. Could not help myself, had to let you know how impressed I am with the quality of workmanship. As an ex aviation engineer I really appreciate great design and build quality, can't wait to balance my first wheel! All the best wishes for Christmas and the New Year.

Kind Regards,

Glenn Howard
Howie's Handyman Service - Victoria, Australia
---
Just wanted to tell you how much I value and depend on my visual alert. I've had it for years and won't ride 10 feet without it. Just got a jealous buddy to contact you to buy one - if he's smart.

Cheers,
Matt Guss
---
Used my Vespa GTS balancer this weekend. Incredible. A precision instrument, quality beyond belief. Thank you so much!

Timothy Allen
---
Marc,

Just a quick note to say thank you for the quality and ease of use for your product. I have mounted and balanced a couple of tires and found the tool to work as promised. It is almost too easy to level a couple of jack-stands and go to work. The best part is no vibration in the tires.

A great product - thank you.

Bryan Nielson
---
The BMW F800S adapter and shaft arrived today. It works perfectly. New tire mounted and balanced!

Paul Glaves
---
The wheel balancer works just fine. Set it up as you suggested and even my dirt tires run true at (or above) legal freeway speeds! Thank you for such a well made product.

Alonzo
---
Your wheel balancing tool is one of the highest quality I've seen for Harley Davidson. Most HD tools are crude and clunky, while yours is finely designed and manufactured. I love the flat side on the bearing races for placement on supports. This tool makes balancing extremely easy....

John Weber
---
Marc, the Harley switch tool worked great. I'd been dorking around for hours trying to get the ignition switch seated properly, but no luck. Your switch tool made the job easy, plus it's well-made and reasonably priced.

Thanks!
Plow
---
Hi Marc,
Impressive workmanship. It will also function well as a table ornament and mystery tool (guess what it is). Finally I have a balancing tool that will let me be as anal as I want to be.

Thanks,
Alan
---
Marc,
Received your balancer and as an engineer I have to say....very impressive device and it works great!! Balanced my new tires to perfection. Very high quality machining and you thought of every issue one might have on each specific bike. Mine is an R1200GSA and your rear tire insert fit like a glove.

Thanks again....great product.

Dave Brown, P.Eng.,BDS,C.E.T.
---
Marc,
I wanted you to know that my Redline has been on my bike for over 40K miles with your Visual Alert mounted atop the waterproof box the entire time. Just finished the 10 N 10 two weeks ago, and the time and aggravation it saved me from close encounters with local constabulary over that rally alone made me forever grateful to you.

Jack Cheasty
---
Hey Marc,
Just wanted to give a shout and say thank you once again for the fabulous balancer. It's an absolute joy to own and use such a well-made tool. It worked flawlessly, and I'm now the envy of all my friends and enemies!

All the best,
Rob B.
---
Hi Marc,
I'm writing to let you know how happy I am with your bad-ass balancer and machine work. Once I started playing with it, I had a hard time stopping...took already "shop balanced" wheels off another bike just to check them against your balancer. Wow, much more precise than whatever my local dealer is using. Lets just say I will own this tool until I die or stop riding!

Accurate, precise, and high quality. I am proud to own this American made tool. You sir, have set the bar high. My hat is off to you.

Matt M, in Mesa AZ
PS- Please use this as testament to your outstanding product!
---
Hi Marc,
I'm very happy with the Visual Alert and wanted to give you some information that might help with another customer. I'm 6' 1" on a K1600GT with the stock seat in the high position. The unit is mounted on the top of the instrument panel just below and centered on the GPS. It doesn't obstruct the view of the GPS. The 30" cable is a few inches long but hides nicely behind the bike's speaker cover. The angle of the light projection is perfect!

Thanks for the help and a great product.
John
---
Hi Marc,
Just wanted to send word to you. My buddy and I have been using your original balancer since we started racing in 2006. It was the best balancer we had ever used and still use it to this day. We recently started racing NSR50s with M1GP and were happy to discover you made this balancer for the scooters and smaller bikes. Received it today and already put it to work. It has the same quality and precision that we became accustom to with your previous balancer. The quality is second to none.

Awesome products! Keep up the good work.

Thank you,
Aaron Debely
---
Hey Marc,
I balanced my first set of tires last night. That balancer you built, stunning and elegant. ALL things should be manufactured with such technical prowess.

Xen
---
Well, I used your balancer tonight for the first time. I am very impressed to say the least. I did the front tire on my 2007 GS and it went very well. I ended up using four of the little weights together and I got lucky when I was all done, the wheel didn't move in any position I left it. And as precise as the bearings in your balancer are that is pretty impressive.
Your stuff looks very well built! The GS axle tool for the front tire is awesome! When I got done I took the bike for a brisk ride and it was smooth as butter or at least as smooth as a BMW twin gets.

I'm a new fan.

Thanks.
Rich Pelton
---
I just used your Visual Alert lights for my Valentine for the first time yesterday. I love what you have come up with here. Thanks so much for your hard work in coming up with this product. Its a big asset to my motorcycle world. Today I placed an order for the BMW Maintenance CDs and your BMW oil filter wrench. I will probably buy everything you make for BMWs sooner than later. Thanks again for your clear thinking designs and hard work.

R. Alan Elder
---
Marc: Thank you! Great product. Balancer set-up for Ducati arrived. Guess I'm picky, the shop mount & balance job just wasn't good. In 15 min. had my new rear tire balanced PERFECT. Again, THANK YOU.

Stan Gannon- Buffalo Missouri
---
Hi Guys! I just got my Visual Alert in the mail. I installed it and its Awesome! The quality construction and the plug are top notch. I'm going to show it to everyone at the next FJR rally in September so they can see it for themselves. Thank You!!
Vic
---
I just received my BMW Paralever BML balancer and have already put it to work. I've never seen anything so simple work so well. Being both an engineer and a pilot, I appreciate the quality and attention to detail.

Thanks again for a great product!

Joel Hodroff
---
Marc:
Don't mean to flood you with email but I have been meaning to tell you how much I do like your Visual Alert. I have used it on several long (multi-day) IBA certification rides and Rallies. I am going to be in the Iron Butt Rally this year so it will be a necessity. I know of many IBA members that run with radar detectors that seem to prefer piping the sound into their audio system. I guess this works well if you have an audio system with priority queuing but if you don't (like mine) you are listening for a beep tone in conjunction with whatever audio you have playing. Your Visual Alert gets my attention, even on days traveling into the sun. The angle of it plus it's location makes it really hard to miss. Now I don't have to worry about discerning a beep tone over some music source that might have similar sounds. Since it has no moving parts or even external power concerns, it is just one less thing to worry about. As long is the Escort is beeping, your Alert system is flashing. No muss, no fuss. I like that.

R,
Gregg
---
Marc,
Just wanted to write and say thank you. Not only is the product exceptional, but so was your level of service. I am greatly appreciative of your speed in getting the wrench out to this procrastinator. Again, thanks. You'll probably see an order from me for a F700 wrench once I'm sure my wife didn't already order one.
Jim
---
Hey Marc,
Just so you know, I was over on the Legal Speeding HARD system page with my cart full and ready to purchase... up till now it was the only option I'd heard of for remote motorcycle alerts!
Then I got smart, and did a few forum searches for the HARD system. It seems many users have issues with reliability, battery life, and general irritations with it, plus the extra cost! That said, I already have the Valentine One audio adaptor since I tried using it last year with ear buds. Ready to give your system a try, you've got lots of happy customers! :). This one will be going on my '06 Yamaha FJR 1300!
Thanks again,
Abraham S.
---
Marc,
It has been a long time since I ordered the plug cap removal tool from you but I just want you to know it is invaluable to me. I have used it many times. It makes it easy to get the caps off my R1100s. I'm glad I heard about the tool.

Rob
---
Thanks for the speedy delivery of my Harley Ignition Switch Tool. 5 days from point of order to delivery in the UK. Now that's service and it's a quality product too. Made the job in hand so much easier.

Terry Scott, United Kingdom
---
Marc

Just a brief note to let you note that I used your tool to balance the rear wheel of my GS and it worked out beautifully. I was amazed at how sensitive the bearings are to any input. The wheel turns forever with the slightest push. Eventually the wheel took two pieces of weight (7 grams). A third one would turn the wheel down so I left it at that as I was beginning to feel like I was splitting hairs.


So, a long way to say thanks for a nice tool.


Marcos
---
Hi Marc,
Just wanted to let you know that your Ignition Tool works awesome! Thanks again for the speedy shipping along with a simple quality product.

Scott
---
Hi Marc,
Finally got a chance to mount the new tires on the K1200RS (Michelin Pilot Road 3, can't wait to try them out!) and put the balancer to work. Fantastic setup! It's amazing how smooth and low drag those bearings are. The machining is top notch.

Thanks again!
Gino
---
Marc,
Just received the Visual Alert you made special for me. I can't tell you how much I appreciate dealing with someone who makes an excellent product, is so willing to work with a customer's needs and then DOES WHAT HE SAID HE WILL DO. The piece is exactly what I needed and your service was exceptional. As always, a pleasure doing business with you.
Mick
---
Marc, I just wanted to say, wow! What an awesome tool at a very reasonable price, too. And super fast shipping. Thanks! I ran into a problem with my 2012 Harley Ignition and your tool did the trick. What a life saver and money saver to boot. I highly recommend Marc's Harley Ignition Tool to anyone working on a Harley Touring Ignition.

Worth it's weight in gold.
Mike U.
---
Thanks so much. It's a great product! Quick and easy to set up and it worked really, really well. More sensitive than I expected. As part of my job I balance large steam turbines (like 800 MW or 1.1 million horsepower) and air and gas fans (5000 hp or so) and also smaller stuff (I've balanced little centrifugal compressors with little tiny impellors running at 53,000 rpm). So, I can appreciate the simplicity of your device and how sensitive I was able to get the balance very quickly. I checked and I had it easily to between a quarter and a half of (better than) the ISO Grade 40 balance tolerance for car wheels.

Way cool!

(Yeah, I'm an engineer and couldn't resist figuring that out.)
Ed Weeks
Page, AZ
---
Marc, that wrench is a piece of machining artwork.... too nice to get in the oil of my Beemer.

Thanks
Carl
---
Hi Marc,
Received my Plug Cap Removal Tool and the Oil Filter Wrench for my R1200RT. As in the past, I'm amazed at the quality of your work and will enjoy using these tools.
Thanks much,
Neil Montgomery
---
Hey Marc! I bought your balancers a while ago for my K1600GT and Ducati 1198S. Finally had a chance to balance a new tire (Duc) and your product was AWESOME! I can't tell you what a satisfied feeling it is to use a quality tool. Couldn't be happier and now can't wait to tear up the tires on the new BMW so I can balance those. Thanks!!!

David W. Pancerz
---
Hi Marc,
Thank you for very fast shipping, excellent packaging and beautiful work. These parts could make a great coffee table decoration as well as balance wheels.
Thanks again,
Tom
---
Hello, just to let you know my wheel balancer arrived safely in Scotland 3 days ago. It looks a great piece of kit. If it's of any interest to any other potential UK buyers it took approx 13 days to get here and there was £13 VAT and handling charge to pay. Well worth it.

Andy McArthur
---
Marc,
Received your really cool Harley switch tool yesterday, thank you. That was really fast shipping! More importantly I had the switch aligned properly in about 5 minutes. I can't imagine what the Harley switch tool does for $70.00 more. Thank you for a great product at a great price and fast service to boot!

Regards,
Jim DeLeo
---
Marc,
I want to thank you for the great service and excellent product. It worked great, exactly as promised and with the satisfaction of knowing I did the job right myself I couldn't be happier.

Brian from Fenelon Falls, Ontario, Canada
---
Hi Marc,
I received the balancer on Saturday and used it on Sunday. It works great! Very well made and as you said very compact also. First time I static balanced my own wheel and it could not have been easier. Thank you for providing such an excellent product and also shipping it so quickly to my house.
Best regards,
Avery Causey
---
Marc,
Finally got out for a ride today. Wow! What a wonderful difference, the ride was smooth and much less tiring. Highway speeds to low 70s without any significant vibrations on a dual sport, who would have guessed?

Can't thank you enough for a great instrument!

Thanks,
Jonathan
---
Just rode my bike to work after re-balancing the front wheel. Dealer used 14 weights, I ended up with 3. Smooth thru 75mph, about as fast as I go on the way to work. Thanks for a great product.

Ron Angert
---
Marc,
Got the BMW K16 adapter yesterday...Fits like a glove. It's a beautiful thing to look at. It's an honor to own a piece of craftsmanship.

Look forward to buying more in the future.

Nick
---
Visual Alert combined with audio system. Just a quick note to let you know that your visual alert and a mono Y-cord going to an aux audio system does indeed still function. Sent you note a few days ago asking if it would and you did not know. You were not sure if the RX65 put out enough voltage to power both the visual alert and send a signal to another audio input. Now we know it does. Bench tested with a J&M Integratr IV, so also assume it will work with the Amplirider I have ordered. Just wanted to let you know in case you get a similar question in the future. Thanks for a great product.

Big John Hart- Mississippi
---
Received the balancer a couple of days ago, what a beautiful piece of equipment and so easy to use. Can't wait to ride and try it out.

Thanks,
Jonathan
---
You probably hear this all the time but with my R100RS the local folks used four oz. of lead on each wheel and it still bounced down the road, using your balancer, following your instructions, I mounted the tires only using ¼ oz. on each wheel. From that point on I have only used the balancer purchase from you.

Thanks again,
Michael
---
Hey I just used the balancer on a 2009 Harley Ultra Classic front wheel and followed your info exactly and the balance was fast and easy. The heavy spot on bare rim was offset of the valve stem. I had to cut 1/8 inch off of 1/4 inch weight. Very little weight to balance on a Dunlop Elite front wheel .Thanks for a great tool Marc.

Rick Oshawa Ontario Canada
---
Hello Mark,
I received the Wheel Balancer today (Very quick delivery considering the 4 day Easter break) and I am very impressed with the outstanding quality of your product. I got a shaft machined up a few weeks ago for my Ducati paddock stand by a local Machinist and it cost me $50. How you can supply me the balancer with a hell of a lot more work and higher quality material plus bearings shipped to my door in Wagga Wagga, Australia, for $130 is astounding.

Thank you very much.

Cliff Dunn
Wagga Wagga
NSW
Australia
---
Marc,
I recently purchased your balancer and combo cone set for my Ducatis and Speed Triple. The weather here in PA has been terrible and will be for a few more days, so I took this opportunity to get some things done and change the tires on my Streetfighter. The balancer worked great, so I wanted to give you that feedback and thank you for the quality product. I haven't had a chance to take the bike out to check for any hopping or shaking, but I have no reason to expect that.

Thanks again,
Mike
---
I wanted to let you know that the wheel balancer worked absolutely fantastic. I also appreciate the level of workmanship in the tool. With so much Chinese garbage floating around, it's nice to see a true piece of quality workmanship. I forgot how nice my Vespa feels at 65. What a difference.

Thanks.
Pitt
---
Just wanted to say, I used it for the first time today and it works great. My son and I bought it together. We got the set up for the Vulcan 900 because we realized it would work on my 1100 Shadow as well. Way too pleased with this set-up. Thanks for providing such a great product.

Al Woodard
---
Thanks for a quick transaction. Very nice quality product you got . I wish all my on-line business went as smooth, promptly, and courteous. I will tell everyone I know rest assured, best wishes to you and yours during this holiday season.

Jerry
---
Marc
Thought you might like to know. I used your balancer on the weekend and it worked really well. Very simple to use and I am very impressed with the quality of the machining. I look forward to you bringing out tools of similar quality (bead breaker maybe).

Thanks again.
Dave
---
Hi Marc,
I just got the package, delivered fast and as described. Just one thing: I said,

"Oil Filter Wrench

" not

"Oil Filter Jewelry!"

The damn thing is too pretty to use! The balancer looks great also.
Thanks for the fast service.
Mark Smith
---
Received the balancer and it was a breeze to balance the wheels on a Harley Davidson FLHTC and a Buell X1. Very happy with the purchase and glad I went with your balancer, it shows in the workmanship and ease of use that your product is the choice to have.
Lapsley Hope
---
Greetings,
Got the Harley switch tool today, it took all of 30 seconds to fix my screw-up. The old style switches were almost idiot proof as you didn't have to have the forks locked to pull it out. I learned something and picked up a handy tool in the process, thanks!

When I find something of value H-D related I make some noise about it. Not many people are gonna give Kent-Moore or Jim's what they want for one of these just to have laying around. At your prices I'd expect a lot of folks would pick one up for the day they might need it. I expect you ought to see some orders rolling in.

Thanks again,
TL
---
Used your balancer on my 2011 Concours 1400 with new Pilot Road 3 tires. Couldn't live with the dealership balance job. Your product got them dialed in to perfection. Would highly recommend.

Douglas Weiss
---
Hi Marc,
I wanted to get back to you on your Visual Alert with my Beltronics V8. Your light alert is the only thing I have found whether audio or visual that actually works as advertised! Fantastic! I was extremely impressed with your help in picking it out but also your personal help in getting them to us before we left on our 3800 mile trip out west. The light always let us know we were being detected, bright sunny days included. We did find that they do need to be aimed generally in our direction. I use this same radar detector and Visual Alert on both my Road King and Suzuki Vstrom.

Thanks again for your personalized help.
Best Regards, Paul
---
Marc,

I received your adapter yesterday and used it last night. It worked great. This is the third tool I have ordered from you and all have been of outstanding quality. You provide great service and quality product at a good price. That is refreshing, especially after owning several BMWs and being gouged on OEM parts and tools. Keep up the good work, you have earned a new customer.

Kirk Chapman
---
I have been using the Harley balancer for a year now and it absolutely ROCKS. I recommend this product with enthusiasm. Once you get used to it, it goes very quickly. You can save a thousand bucks over a machine and do just as well or better with this product as you would with a machine.

Michael Valle
---
Mr. Parnes,
I received the unit (Visual Alert) and installed it immediately on my motorcycle. My only regret is that I did not have this system a long time ago. I was using the amplified speaker but could not hear it all the time during high speed riding on my Hayabusa or R1. This unit is FANTASTIC! It is connected to my Bell RX65. As I was riding to work one day at 4:30 AM, I was targeted by POP from the opposite side of the highway. You were "dead-on" when you advised me not to use it during night time. Wow! I think the officer noticed the reflection of the bright red LED lights from across the highway. This is an ingenious "work of art!" Now that you have perfected it, you may want to consider inventing a "night shade" to clip over the unit. Mounted centered on the windscreen at about eight inches down from the top is the perfect location on my Hayabusa to see the lights during daylight.

Thank you for producing such a great product.
John V.
---
Marc,
I received the balancer today well ahead of my trip out of the country just as you stated. The balancer is a thing of precision and beauty! Thank you for the excellent product and great communication!

Jack
---
Just recently I was at a cycle gathering of guys from ADV rider and discussions of long high speed riding came up on our dual sports. Many were trailering to the event in Western MD. I was putting another 500 miles in 2 days on my XR650 and guys there said I was a nut and it had to vibrate my ass off. Told 'em not so and I have a nicely balanced system in part thanks to Marc Parnes. Heard the usual crap about why balance a dirt bike when they get covered in dirt anyway and though my bike is usually also covered in dirt it runs smooth as a top at 80mph. It DOES make a difference, but I am preaching to the choir when I tell this to Marc. Just passing along the info. I'm a firm believer.

Pete
---
I bought Marc's Escort LED visual warning years ago and it is the best investment ever for radar protection. It plugs up tightly, is VERY visible day and nite. Unfortunately it was still on my last bike I sold and the buyer would not take the bike without the Escort setup. So I am back for my second LED setup.

Tim R
---
Marc,
I received the axel tool on Thursday and used it to remove the front wheel from my Kawasaki ZX14 today. The tool worked flawlessly and I'm impressed with the quality and design! Thanks for making such a fine and reasonably priced product!

Dan
---
WOW!!! You ARE good!!!
I have read numerous positive comments about you and your biz ethics but this is incredible. I send a note after 8:00 PM and you reply in minutes. You're unreal !!!!! I'll spread the gospel about your service, tell all the guys at ADV and BMWOA.
Between your current discount offering and spectacular service, I'll be back for some of the fancy foo foo BMW service tools. That plastic widget for removing the spark plug terminals...sucks!!!!!
Many thanks for your time and consideration,
Dan L.
---
Ok, so I ordered my Marc Parnes wheel balancer (for FJR1300) last Friday night. I got it today, Monday afternoon. I live in Virginia.... You shipped from California. How the hell is that even possible? Completely Awesome. Thank you.

Shane
---
I recently order a wheel balancer for my Honda scooter. I was very impressed with the quality machining of the tool. Very simple tool yet very accurate and easy to use. I've told everybody that I know has a bike about your products.

Thank again,
D.Kortz
---
Marc,
No problem here, I just want to say I really like the BMW balancer. It works great, and it is small and simple. I could balance my tire with the balancer suspended by two shelves. No additional clutter needed in the garage!

Thanks again,
Harald
---
Hello Marc,
Just a quick heads up that your balancer has arrived today. Speedy! And a real precision tool, and so compact, I love it. Rotates even with just the cones' wing screws to the side. Very nice!
Count me as one of your fans from now on.
Cheers,
Arno
---
Wow, that thing is a work of art!

Shipped fast too.

I look forward to using it.

Thanks!
---
Marc,
I received the static balancer today. It's a work of art! I can't wait to try it – though it's almost too pretty to use.:) Thanks for making such a nice item. It's rare to find something this high-quality these days. Have a great evening.

Charley
---
I just received my order for the Harley switch tool. This is a very high quality tool and I look forward to doing more business with you in the future. I have bought tools from several suppliers and am not often so impressed with the quality and craftsmanship that went in to it.

Again, Thank You
---
Marc,
I used your visual alert on the 10 'n 10 Rally these last two weeks, and I have to say it worked a treat! I rode 10,505 miles during the rally without a ticket; without a single stop! Great product, and worked as advertised.

Oh, and I won the rally too. ;-)

Ken Morton, Lunatic Adventurer IBA # 257 IBR '03 '07
'Vancouver, WA, USA
---
It is a work of art. I have not even used it yet but I had to pull it out of my toolbox to show my dad. I still have to buy a tire machine yet. I wish you made those too as I am sure it would be the best could buy for the money.

Steve
---
Thank you Marc! I just received the Ducati 1098 balancer modified to my spec of 15.5" balance shaft. Great deal and craftsmanship! Probably one of the best I've seen if not the best!. Appreciate you taking care of me on my request. If I have any friends who may be interested I will let them know. Also, I will be posting a blog on Ducatispot.com to show off my new purchase... maybe some more referrals by doing this!

Johnathan Yi
---
Marc,
I have nothing more to offer regarding what's already been said by others but the fact is that I am very impressed with the quality and accuracy of your wheel balancer. Your product is more of a precise instrument than it is a tool. Thank you for making this purchase a wonderful experience, the product and your personal service have exceeded my expectations.

Best regards,
Dave in North Georgia, USA
---
Hi Marc:
I ordered a wheel balancer on Friday and had it by noon on Monday. That is what I call good service! Thirty minutes after I got back from the mailbox, I had the rear wheel of my VFR800 balanced. I had previously read the instructions on the Internet. I was designing my own balancer when I ran across yours on VFRDiscussions.com. Almost exactly what I had in mind. I could make my own for only slightly less than what you charged, so I ordered one from you. Nice design and execution.
FYI: I am a retired mechanical engineer with 15 patents so I recognize a good thing when I see it. Looking forward to getting an HF changer and your upgrades. By Saturday, I'll have balanced the tires on three of my six bikes. This thing is paying for its self in a hurry.
Thanks again,
Ron Sergeant
---
I'm extremely happy with my new balancer. It arrived this morning (it was purchased in the evening two days ago......WOW, that was fast!!) and I set it up and used it this afternoon and it worked beautifully. Quality is A+

Thanks so much,
Tim Bennett
---
Just received my Harley ignition alignment tool today. What a precision tool this is! Used it to work on my new FLHTK and it worked like a dream...Thanks Marc for the quality tool and the super fast shipping!

Doug Pfaltzgraff
---
Marc, you have a Great wheel balancer. I purchased the HD model and it was strong enough to support my rear tire, rotor and belt hub. The results were repeatable and I could easily pick off 5 grams of imbalance. Nice!
Tks Jim
---
Received my balancer today, put it to use and its amazing how much better my VFR rides. I will never again let my motorcycle tires be computer balanced.

---
Hey Marc,
I just wanted to say, Holy Crap your balancer is easy to use even for a first timer. I just got it in the mail today and within an 1/2 hour I was able to get the tire and rim balanced. Not bad for my first time. I know with this balancer I will save myself and friends money.

Thanks,
Andre
---
Top notch stuff will never ride an ATV again without balancing the tires wow what a diff.
Mike Katka
---
Thank you for producing a quality wheel balancer. I installed a new rear tire on my bike H-D FXDC and balanced it using your balancer. I also removed the front wheel and balanced it. My ride has never been so smooth. As a marine engine mechanic I appreciate good tools and yours is a fine one.

Thank you,
Bob Swords
---
Marc, I received your Balancer today and I am impressed with the quality, precision and overall workmanship. Kudos to you and I look forward to many years of use! Thanks again for your quick and personal attention to detail regarding shipment and products!

Respectfully,
Dave
---
Received, used, and what a difference! Nice, simple, elegant, well made device that let's me do a job that I would never have somebody do because of the hassle factor... bike is smooth, and I can use the mirrors at 80 mph, aforementioned vibe has vanished... thought you might like the positive feedback. I'm a builder/contractor and I know customer compliments can be few and far between...

Thanks,
Will
---
What a great product!
Marc,
I struggled for years trying to find a means to balance my VFR's tires. The ceramic beads only work at speed but then stick to the inside of the tire's hot spots throwing everything out of whack. Your product is so well made and works exactly as advertised. I found myself cutting 1/4 oz stick-on weights into fourths (yes I got a little obsessed there!) thus balancing my new Avon Storms to a less than 2 gram tolerance. The end results are just incredible. Tremendous increase in stability, especially when leaned hard over, and no vibrations. Things were so smooth that I kept going for a non-existent 7th gear. Did a short stint at 115mph (actual speed on my Garmin navigator) with just awesome smoothness. Motorcyclist Magazine should feature your product some month....send them one and watch your sales sky-rocket.
Thanks again,
Barry Chapman
1998 VFR800
---
Wow! I just used the balancer for the first time on my Buell Ulysses. I had blamed the factory Dunlop D616's for the head shake and handling issues. They just weren't balanced properly from the beginning. The wheels now have half the original weight on them in a different place and it's like a completely different bike. Absolutely amazing what a good static balancing will do for a bike's handling characteristics. THANKS!!

Aaron S. Rose
---
Wow, Holy fast shipping! I ordered Friday and it arrived Monday, from CA to NY no less!

My bike is off the road .. I have to wait 8-10 business days for my friggin' Suzuki parts to even ship to me ... 8 business days!!! At least I can use this great looking balancer on the wheels in the meantime.

As I watch the two wing bolts slowly fall from pointing up to pointing down on the shaft ... I know I will be getting my wheels perfect this time. Too bad it will only take me 30 minutes. I have 8 business days to burn!!!!!

Thanks again for amazingly fast service (1/2 of a business day in transit), and a great product. Money well spent.
---
Hey Marc - I've been using your balancer for 5+ years with a great deal of success. I just bought a R12GS, and got your adapter for the rear wheel. Works like a charm. Thanks for providing such quality products. Makes life much easier for guys like me who do their own wrenching.

Mike Murphy
---
I am very impressed with the unit. Just been for a test ride past a known speed trap and boy did it light up. I almost jumped out of my skin when it went off and I was expecting it to go off. I have been using an in helmet wireless LED up to now and the blasted batteries keep going flat in it and you don't know they have until a cop lights you up and the bloody thing doesn't go off. That cost me a hefty ticket a while back.
Marc,
I just finished balancing my R1200R rear and I can't believe how easy it was. The CNC work is super.

I posted a very positive regard with a link to your site on

www.r1150r.org

where I am active. Not that you need it, since everyone seems to know your balancer is the best at ADV and all over but still, great products should always be mentioned again.

Thanks again, and I'll be ordering more (axle tool, spark plug tool, etc) when I scrape together a few more coins!

Good stuff. Thanks for helping enable me to feel like the master of my own bike.

Wes
---
I received my order the other day ---- just getting around to opening the package. Everything looks very good. Thanks for making these very useful tools available. I have a shop and could have made these myself, why reinvent the wheel!!! You provide a quality tool @ a reasonable price. I appreciate good work when I see it!!

George Stone
---
Hi Marc,
Just wanted to say that my order arrived yesterday. Wow, that was fast. I'm really looking forward to using it! My grandfather was a tool and die maker from before WWII to his retirement in the 80s. I inherited none of his skills, but through him I certainly learned to appreciate and recognize quality and attention to detail. Thanks for putting out something with such impeccable craftsmanship and thoughtful design. Really amazing.

Best,
Matt
---
Just wanted to thank you for your balancer. I ordered it on Monday it was on my front porch in Indiana on Wednesday. I had researched balancers for several weeks before I purchased your balancer. Very well made product and worked great on my HD front wheel. Just wanted to say thank you.
Doug Young
---
I just received the BMW motorcycle wheel balancer (R1200RT) . Thank you for an excellent product, superbly built, of very fine quality and received within the week!!! I will have nothing but praise when I endorse your product to my fellow biker friends.

Thanks,
John Swioklo
---
I change my rear tire and balanced it with your balancer. Result was very good!!

Thanks to you!
Recars, Matti Piilinen from Finland
---
Hi Marc,
I received the balancer (and weights) today. What a beautiful piece of work! I won't be actually changing any tires until the winter months, but based on the visual quality, I am sure it will work flawlessly. Having the shipping charges included was a nice touch and there were no customs charges or duties due to your thoughtful invoicing. Pleasure dealing with you.

Matt in Canada
---
Marc,
I don't know how it was possible but you mailed on Sat and I got it in IL on Monday. It's a nice piece. The Goldwing has never rolled smoother. I'm looking forward to balancing some aircraft wheels soon.

Thanks for prompt service and an excellent product!

Don
---
A few weeks ago I ordered your Universal balancer online. Shipping was almost instant and I received the product in 2 days. The quality of this product can be seen immediately upon opening the box. The machining is flawless. I used it for the first time last weekend and it was very simple to use. I would spin the wheel very slowly and it would come to a stop gradually, suspend there for a second and start spinning the other way. It would always come to a complete rest at the same spot. This is proof that it finds the heavy spot every time. Now I am very confident changing my motorcycle tires myself not only saving money but a lot of time. I used to have to ride down to the dealership (about ½ hour for me) and if I was lucky I could wait 2 hours to get my bike back but depending on the season, I would have to leave the bike, have my wife come down and pick me up and drive me back the next day. Never again! What a great product!

Steve Reinschmidt
---
I purchased the BMW wheel balancer and finally got to use it. I must admit it is the easiest and most precise balancer I ever had the chance to use. My dealer did not have a balancer for the rear wheel. It made a world of difference in the ride.

Thank you,
Fred
---
The balancer arrived today. That was fast! Just like the spark plug puller and the front axle tool, this is an incredibly beautiful tool. Nice work!


Ekke in Canada
---
Hi Marc
The balancer arrived today. This thing looks like one of those expensive, hi-tech desk ornament/toys! I may just put it on my desk and spend all day looking at it when I'm not balancing my wheels.
Thanks for your excellent service.
Regards
Andy Solyom
---
Marc: Just installed your Visual Alert for my Escort radar detector and wanted to let you know that it's great. I mounted it on my R1100S in the well between the tach and the speedo. Almost invisible. This is a vastly superior alternative to a wireless helmet light requiring batteries or an audible alert. At highway speeds with a full coverage helmet, an audible alert needs to be 100 decibels to be heard. On a city street it would be very annoying. Great product!

Tony Swindell
---
I'd like to mention I received the balancer today and the quality is superb. No problems with delivery, too! Thanks for a quality product.
Sincerely,
Kieran Cadman - Australia
---
I've had your Visual Alert on my bike for a couple months now. And I can honestly say that without it my Escort Radar detector was incomplete. I've always strained to see the display and could never hear the alarm over the bike at speed. Now its complete. Even with the sun over my shoulder the alert is easy to see and always gets my attention in the split second that its needed. Thanks Marc for such a GREAT product.

Keith Rosendahl
---
Mr. Parnes

Two weeks ago I bought your Universal Wheel Balancer and I have already replaced four tires and balanced each of those wheels using your balancer. The balancer has already paid for itself - many times over.

The quality of your balancer is very impressive and 'it does the job'!

Thanks.
Dean Elling
---
Marc,

I used my new wheel balancer for the first time yesterday. It works great! It is very sensitive and enabled me to get the wheels balanced very accurately with a minimum of effort. This tool should have been in my box 40 years ago.

Thanks for a great product.

Dave Aultfather
---
Hi Marc,
Just wanted to say thanks for creating such a great tool!
I had the tire mounted at a shop (couldn't get it on/off with tire irons, sigh). The shop included balancing as part of the tire mounting service--package deal. I brought the new tire and wheel home and put it on your balancer. It slowly rolled so that the heaviest spot was down. I reoriented it a couple times and it always rolled back to the same spot. Hmm, the kid at the shop put new weights on it but apparently his balancer wasn't as sensitive or he didn't take the time. Either way I popped his weights off and rebalanced it in minutes. Perfection! Very nice tool!

Thank you!!
Thomas Marquardt
---
Wanted to give an update on the balancer. I love it . Real quality. Another wonderful scooter tool. I got the Vespa one for my MP3 250 20o7 model. I have only done the rear and it worked great. Real sensitive. Had it balanced in no time. I was amazed at the bearings you used.

Thanks again,
Dave
---
Thank you Marc,

It's great to still find top-shelf quality and innovation served up by a great guy to deal with. I ordered and received the universal set along with a set of Ducati 1098 cones in what had to be near-record delivery time. What a beautifully constructed, quality tool!

This setup enables me to balance the broadest number of the Big Four wheels - both for my son's "stunter-dude" types as well as my own more conservative sport bike riding group.

I didn't read or view the directions ( probably should have) and using my Pitbull jack stands (flipping the rounded side down mates perfectly with the Pitbull stand channels), I had it set up and within minutes I'd balanced out my '06 SV650 front wheel to within 1/8 - yes that's right, 1/8 ounce. I know this because I repeated the experiment twice for repeatability/reliability. I did not have to cut new weights each time, yet the wheel stayed dead-still at any point positioned. Awesome tool, awesome guy, thanks again Marc.

Mike Skees
---
I finally used the product & with the tips for the proper procedures like finding the heavy spot on the wheel then mounting the tire with the mark on the tire, WOW, it was so easy. The old tire had 7 weights on the wheel, now I've got one weight on the wheel & its perfect. Its great. Thanks again!!

Terry Walker
---
Hi Marc,
I got to try out my new Triumph balancer this weekend when I changed my first tyre. It's fantastic and now my new favourite tool.

Big thanks!
Al Johnstone in New Zealand
---
I got my ST3 balancer yesterday. AWESOME! So easy to use and accurate - You can't fool gravity!! The machine work is excellent and the balancer is easy to use. Very impressive.

Steve
---
If anyone out there is hesitant for any reason to do business with http://www.marcparnes.com/, you would do well to reconsider. This gentleman has patiently answered a number of 'oddball' questions I had in a number of different emails. It is obvious that Mr. Parnes is genuinely concerned with customer satisfaction, even after the sale! Although I have not yet received my balancer, I am confident that its' quality will be the same as the service I have already had. This kind of attention to detail is becoming all too rare....take advantage of it!!

Very satisfied.....
Roland A. Brawner
---
Hi Marc
Used the GS tire balance for the spoked rim and front tire this weekend, what a great design!! With the instructions furnished for use I was able to balance rim and tire with no problems. Went out and did a 200 mile ride today in the Texas Hill Country and no shakes rattles or rolls.
A very happy customer
Nelson
07 BMW R 1200 GS Adventurer
---
Hi Marc, - Just wanted to tell you I purchased a wheel balancer from you several years ago - it was great - still serving me today. Just this past week I bought a BMW plug tool, oil filter wrench, and front axle tool. Service was outstandingly quick. Anyway I didn't NEED any of these although I will use them -- I just had to have them because they were so beautiful (seriously).

Thanks,
Bruce Carrington
---
Received your wheel balancer in record time and did 2 Classic CB750 Honda-4-wheels. Works GREAT. My Busa is next. Waiting for new tires.

P.S. I keep it stored in the box that it came in. Very compact.
Frank T.
---
Marc
Just wanted to follow up to say thanks for the speedy service. I just used your balancer the other night for the first time. Love It! It works great and I will recommend it to my friends as well.
Thanks again
Larry Rufener
---
Hi Marc, Got the balancer, set it up. Very nice tool. Very smooth. I gave the wheel a little spin and it took the wheel 5 minutes to stop. I wanted to see how those bearings were. And it's so easy to use. Awesome!!!

Thanks,

dragonsycles
---
Marc,

Walt came over this morning and we balanced his rear wheel with the 62mm adapter. Smooth as glass and balanced perfectly. My old buddy left with a big smile on his face. Thanks for another great product.

Ken Krumm
---
Hi. Thank you very much for a well built and affordable priced balancer. After balancing I went on the road test. At 100 mph the BMW K75 is as smooth as it is known for. It helped smooth out the ride at 70 mph and up.

Thank you very much.
"Fast Eddie"
---
Received my balancer just two days after placing my order. It worked as advertised and as professed by so many guys on the Adventure Rider website. I'm glad I took their advice. I took a ride and it's smooth as can be. Can anyone tell me why it costs so much to get tires mounted and balanced at a shop when the task is so easy and accurate with this balancer? Great product! Thanks, Marc.

Galen Anderson
---
I have been using your balancer for some years now and the only comment I can come up with is BRILLIANT. Probably my best eBay find.

Stuart Lloyd
---
Well I used your balancer just last week to balance the new tires for my Honda. Let me tell you the bike feels much smoother then it did with the factory balanced tires it came with. The balancing procedure was rather simple the only 2 hitches I ran into was 2 of the 7 gram segments that I used off one of the weights I ordered would not stick to the the rim. I had no other trouble with any of the other weight on the stick just those 2 7 gram segments. The other hitch was try as I might I could not find what I thought could be a heavy spot marking on my Avon tires I bought. (Marc responds: Jason is correct, Avon doesn't mark the light spot on their tires.) All said and done great product.

Jason
---
Hi Marc,
I also would like to let you know that the design and craftsmanship on your balancer is superb! I think you told me that you machine them right there in your shop. You have done an amazing job, can't wait for my tires to arrive so I can try it.
Many thanks,
Fred Fazaeli
---
Your balancer was the star of my basic motorcycle maintenance class at the local community college tonight. I had brought it along because it was new and it's pretty neat looking in general. The teacher had us using the school's balancer which didn't fit the axel holes of my wheel well and was pretty painful to setup with one guy holding the tire while two other tried to get the bits screwed in place. After 30 minutes I had had enough, whipped out your balancer, and had my wheel setup and balanced 10 minutes later.

Thanks for making a quality tool. It's really nice to work with.

Ramin
---
Marc,
I rec'd my front axle removal tool today and I must say I'm impressed. It looks beautiful and I really like the fact that it's more of a multi-function tool… smart design! It will make a perfect addition to my "on-the-road" tool kit for the mighty K12S.
Regards-
Curt
---
Marc,

Got my wheel balancer on the 25th. Had a wheel off one of my bikes so I did a "practice" balance. This thing works great and is so simple in design and easy to use. About 2 weeks ago I mounted a new rear tire on one of my bikes and took it into the shop that I usually have balance my tires. I got the shock of my life when the bill came to $18.00 for the balancing! What a rip off!! I have 6 motorcycles and am always putting a new tire on one of them. Your balancer will pay for it's self in no time. I don't mind supporting my local shops, but when they charge prices like that it's time to do it myself. Thanks again for the great product and the speedy shipping.


Later "Maynard"

Wisconsin Moto Guzzi Riders, Sec./Tres.
---
Hi Marc:
I'm tremendously impressed with your concern for customers' well-being. I've never had such service and I greatly appreciate your diligence, care and honesty.
My BMW R1200C is a 2000 model and has only one spark plug. Thanks for this advice and the refunds. I look forward to receiving the parcel and will absolutely pass along recommendations to everyone who may buy your parts. Please feel free to use this as a testimonial if you think it might help.
Marc,
Just wanted to drop you a quick note saying that the balancer arrived yesterday and I used it last night. Beautiful tool that works just like it should. I'm very satisfied and will pass my feelings along to all my associates. I also like supporting a small businessman rather than some faceless corporation. Thanks again for the excellent product.

Pete Godbee
---
Hey Marc,

Thanks a lot for the great tool. It working great and very precise. It's a must tool, I will recommend it to my other motorbike freak friends ;)

cheers,
Savi
---
I'm on corporate travel. I ordered my wheel balancer and had it sent to the hotel. Once it arrived I immediately balanced my wheel. I used two folding chairs the hotel let me borrow. Very easy task and only takes a couple of minutes. Now I have the satisfaction of knowing that it's done right and didn't have to pay the dealer for their time! Thanks Mr. Parnes for this small compact ingenious device.

Carl Boler
---
Marc,
Just a short note to say thank you for the prompt delivery to Australia of the BMW Plug tool and Front Axle tool. Both are very well made and I must say the plug tool is just the most useful tool when doing plug servicing (and nice and small to carry in the tool kit).

Thank you again,
Malcolm Cremer
---
Great to come home and find the wheel balancer waiting for me only a couple of days after ordering it. Ripped the box open and headed out to the garage and was done in less than 15 minutes. Great product that works so well. Even better news for the tree huggers out there... the packing peanuts were the dissolving biodegradable type. Thanks Marc.

Lee
---
Hi, Marc
I received the balancer and have to say that your product is amazing!!! It was a breeze to balance my wheels, I will spread the word.

Thanks again,
Alpay Sengenc
---
Hi Marc

Received my Vespa wheel balancer. Very happy with the results. Dealer had put 100gr on the front wheel & and it didn't feel right. Rebalanced it using your product. Dealer had fitted too much weight and in the wrong spot. It only needed 14gr. No vibes, clear mirrors, no handlebar oscillations. Thanks to you I'll be doing my own balancing from now on.

I'll be sure to tell others.

Regards,
Andrew Vanderkwast

Australia
---
Used your balancer for the first time today. Simple, elegant, accurate, and easy to learn. Nice product!!
---
Marc,
I received my Vespa wheel balancer today and I am extremely happy with the quality and ease of use. The instructions on the web site made the job a snap. Thanks for a great product and great service!

Sincerely,
Dave Ryall
---
Marc; Just a quick note to let you know I received my wheel balancer yesterday evening. It is nice, real nice, very fine quality and detail. Thanks Sidney Chandler
---
Marc,

That's one fine piece of machinery. 10 out of 10 for both form and function. It's almost a crime to put it away after the job is finished.

Looks like the FZB kit will handle the FJR front/rear and my VFR front. I assume I'll only need to order the "CNV" cone for the VFR rear (single-sided swingarm). I'll probably order one up come springtime.

Thanks again. I couldn't be happier.

Mark Wareham
---
Marc,
I received my balancer yesterday. I balanced the wheels on my Vespa 250 today, the setup was simple, yet very effective. I could not believe how smooth the ride was. Thanks again for making such a fine product.

Roy
---
Hi Marc,
I just wanted to say that I received the balancer as promised. I used it to balance my front wheel with my new Avon Storm and it now rides great. I was having a "shimmy" issue at low speeds (ie. coming to a stop) and wasn't sure if it was a bad tire or what.
A few weeks ago I had the tire installed and "balanced" at Cycle Gear and they did not do a good job at balancing. Your balancer made the job easy and all is now fine (tire is now in balance. . just took it for a ride today.)
Another satisfied customer.
Thanks again,
James Hart
2002 BMW LT
---
Thanks for a great product!

I received in the mail today and went straight to the garage to balance two tires.

I have two more to balance tomorrow for my GS.

The instructions were easy to follow and I was able to balance a tire on my first try with great confidence.

I especially like the fact in takes up little room in my shop, and will last a lifetime.

Ken K.
---
Just got my "Visual Alert UB", Über Cool. I had one of those "brand X" helmet systems and had nothing but problems with it. This is simple, well designed, uses no batteries, AND IT WORKS.

Thomas O. Phillips III
---
Marc,

It was nice to meet you and see your shop the other day. I just wanted to leave feedback on the Vespa balancer I bought from you. It worked wonderfully! I was amazed at how badly balanced my wheels were from the factory and how accurate and easy to use your balancer was. My scooter is definitely smoother now. Thanks for a fine tool.

Regards,
Kyle
---
Hey Marc~

Thanks for making a quality piece of equipment, and shipping it so fast. I used it today, and it works great. I probably spent more time than I had to, but I know this: there's no one in the world that would have taken the same amount of care balancing my tires. Thanks again for allowing me to do this job right
and not having to depend on some knucklehead at the local shop.

Steve
KLR650
---
Hello. I just wanted to thank you for the great DVD regarding service for my BMW motorcycle. I am not a great mechanic, and this will benefit me greatly! Even I can do this! Thanks again!

Diane
---
Wanted to add my congratulations on a great product! I have now balanced 7 tires including a touring Harley, a Sportster and a Yamaha cruiser. The wheel balancer has already paid for itself and I never have to leave my bikes at the shop for a tire change again. I can change a set of tires and balance them on a rainy afternoon and they run smoother than they did from the shop. Balancing tires with this device is the easiest part of a tire change!

Denny
---
I know.... it has been a while since I bought your balancer but I just had the first chance to use it. I was totally pleased when I saw the workmanship of your product, but I was BLOWN AWAY by the performance. Anyone that builds quality like this needs to be praised.

There is still hope for American manufacturing as long as people like you are still around.

Thanks for a wonderful product.

Ron Kellenbenz
---
Marc,
I received the balancer this afternoon. The quality is excellent (as you already know). After a little tinkering and playing around with taping the weights onto the wheels, I had them both balanced in no time at all. I'll definitely be recommending your products to anyone I talk to in the future. Thanks again.

-Keith
---
Hi Marc,

The pleasure is mine, so, thank you for building and selling such a useful piece of equipment that is also simple to use. I especially like the fact that using it does not require some fancy stand to support the balance rod (axle of sorts). In my opinion, that was a stroke of genius and it sets you apart from everybody else in the tire balancing business.

I have to tell you, I've heard of these balancers in the past and regarded them as extravagant and unnecessary. I have always balanced my tire on the bike with the axle bolted in the forks and the bike on its center stand. I guess I'm still thinking like a dirt bike rider, which I have been most of my life. Eventually, I came to understand how inaccurate this method was. Also, about the same time a friend of mine, who rides a Harley, told me how much it cost him to replace his tire, I nearly fainted. I told him that I could replace both tires on my bike for little more than half what he paid for a single (back) tire. This led me to realize that my $105 investment in a proper tire balancer would pay for itself the first time I replace both tires on my bike. I should have bought one years ago, but I'm glad I didn't. I like your design the best. Among other things, it stores with a minimum of space requirement. In a tight garage this is important.

Thanks again,
Den J.
---
The Marc Parnes balancer is an absolute joy to use and makes balancing the wheels so much easier. I should have gotten it years ago. It fits both the FJR and Wing wheels and all I need are a couple of big oil jugs to support it on. This tool proved to be worth it's weight in gold, as it is small and easy to store, and is easy to use and fits just about any wheel. The GL1800 rear wheel does not have an axle, so it was always a challenge to try to balance it. The design of the cones in the Marc Parnes balancer perfectly centers the rear wheel so you can easily balance it. All you need are a couple supporting jack stands or similar device to set the balancer on. The bearings turn easily and exert very low friction, which allows you to balance the tire to within a few grams. On a scale of one to ten, I would give this tool a solid ten for easy of use and reliability. My only regret is not getting one sooner.
---
I purchased your BMW (single sided) balancer from Aerostitch and wanted to say thanks. This tool is a work of art and one of the most well made tools I have. I was a little worried about doing my own balancing until I used the balancer I bought. To say it is easy is an understatement. About 3 to 5 minutes after putting the tire on the balancer I was done. The test ride spoke for itself; simply the smoothest ride I've ever felt. I've been riding for over 100,000 miles now and I don't think I've ever felt a ride this smooth.
I live 80 miles one way from the nearest dealership and now I am saving almost 200.00 per tire change. This is now money spent riding and enjoying my bike.

Thanks for a wonderful tool!
Eric Foerster
---
A friend has one - used it on Saturday for my CBR1100XX & ST1100 and was BLOWN AWAY! What a precise instrument for wheel balancing. Had to revise my method, as "spinning the wheel" method will have you waiting a very long time for this thing to stop. The 2/4/8/10 o'clock method is the only way to go.
---
Dude, the thing works great!!!! For a chuckle, there are some pics of my task on my Flickr page:
Thank you for providing the easiest part of the job!!!!
Glenn
---
Hey,
I wanted to thank you for your expedient nature on a quality product.
I have never mounted and balanced a tire before in my life. Your balancer made it so easy. It was evidenced after I scrubbed the new skins for a couple hundred miles. I felt I did a better job balancing the tires than my BMW mechanic!
Thank you again for providing such a valuable product in such a quick manner! You do great service to all of us. I just wish all my vendors at the office were as efficient as you!!
Nice Job!!!
KB
Team Devilchaser
---
Ordered Friday got it Tuesday from the US to the UK (via Global Express Mail). Marc, this has to be a record. I cannot thank you enough.
Best Wishes
Andrew
---
Marc,

Balancer received today and just in time too! I took my tires in to an acquaintances house to get them mounted, and he couldn't balance the rear. No biggie, I came home and set up your balancer on my kitchen chairs, boom, done. Perfect, and I couldn't be happier. Consider yourself 1 happy customer richer.


Daniel
---
Hi,
Thanks for your e-mail. I hear good things about your product. I bought from you over the No-Mar balancer because of the sealed bearings and the ease of portability in a toolbox for track days.
I heard about you from Google searching "Static wheel balancer" and I had confidence in buying from you because of your website's attention to detail and the review on
webbikeworld.com
.
Thanks for providing the riding public with such great products. Keep 'em coming!
Thanks,
John Slovensky
---
Hi Marc,
Just wanted to let you know that I've finally put your balancer in use following your explicit instructions. What A Great Device! Once I figured out how to orient the wheel to freely turn between two jack stands, it worked exactly as advertised. That thing is sensitive. The wheel started to pendulum back and forth immediately and took a while before it finally stopped light spot at the top. It took six of those little weights to finally get it balanced.

Now the KLR seems to run with less vibration and less wear and tear on wheels, etc. Thanks again for a great product! Looks like I'll be ordering more weight though .....

Regards,
Phil March
---
Marc,
I got the balancer today. It is a work of art! I'm not going to put this thing in my toolbox when I'm not using it. I'm going to keep it on my desk.
Thanks,
Mike
---
Hi Marc.
Just had to let you know how happy I am with your balancer. My Dad and I put a set of tires on my Z1000 yesterday and we were astounded by the sensitivity and accuracy of this tool.

On the front, I had to cut a weight to get it right. I tried to cut it in half, but one piece was a little bigger than the other. I put that one on and it became slightly heavy, so I swapped the smaller piece. The wheel did not move after that no matter where I put it. We just shook our heads in amazement.

You offer a super product with great customer support. Your balancing instructions and tire changing tips made the job a breeze. A big thanks from both my Dad and I for all the money we are going to save on tires in the future.

Please feel free to add us to your list of testimonials.

Robert and Fred Jackson
---
Received the balancer today (Monday 4th December)... WOW!! what a lovely bit of kit, took less than a week to get here as well (to the UK).
Very impressed with both the balancing tool and your level of service!!
Marc,
Thanks for the fast shipment.
I got your balancer in the mail yesterday. I immediately took the rear tire off my bike and put it on the balancer. It was 2 oz out! It works great, too good in fact, I know I am being too anal for sure but I love the sensitivity. The balancer moves so freely I decided to cut one of the weights into 3rds just to see if it would respond to it. It did! that's only 0.083 oz.
The dealer near me was always telling me there is no need to balance "modern tires" but I kept replacing them too soon with one spot worn more than the rest. My life will have more balance from now on. Thanks for a great product.
Mark
P.S. I think your instructions and procedure documents are great.
---
Hi Marc,
The universal balancer I ordered for my BMW 650 GS Dakar arrived this morning .
A real work of art, well engineered. I'm well pleased with it. Got both of my wheels balanced in about 1/2 hour (was my first time after all
)
The only slight gripe is that I've only got a couple of weights left but that's my fault for only ordering one strip!
I've taken a couple of pics that you may use on your website if you wish and I shall post up on ukgser about my favourable experience
Regards,
Mike (United Kingdom)
---
Hey Marc,
At first I was going to call you because I had a question about using the balancer, but it turned out my brain was disengaged. Then I just wanted to tell you how impressed I was.

I balanced a spare R6 rear wheel and was surprised that it needed two weights (14 grams) opposite the valve stem. Now I'm wishing I'd tried it with the old tire on the rim, but I'll recheck it when I get a new tire for it. Maybe later today I'll get one of my bikes in the shop and balance two wheels.

It seems silly to get all worked up about something so simple but I am really impressed! I appreciate the craftsmanship and the simplicity of design. Makes me want to just sit and look at it. I also like how it fits in my tool drawer and how it doesn't need the rear wheel adapter.

Excellent product!
Brent
---
Marc -
Finished my first balance using your balancer yesterday and took a test ride. Metzlers (ME880s on a R1150RT) balanced with 14 grams of weight instead of the 50 on the last set I had balanced at dealer. Bike is smoother than ever. Thanks for the fine tool. And I will be making this weekend's trip as well. (Marc: He needed it fast.)

Feel free to use me as a reference if the need arises. It has been a pleasure doing business with you. The product, service and support material leave little else to be desired.

Thanks,
Randy
---
Hi Marc,
Good news! The balancer arrived yesterday the 8th of March. I am very pleased. This looks and feels a nice piece of engineering. The quality is brilliant. The wait was well worth it.
It looks as if 14 days may be a more realistic expected delivery time to the UK.
Once again, Thanks
Kind regards,
Bob Keith (Wales, UK)
---
Marc,
I've (finally) gotten around to another throttle body synch and have to thank you again for the throttle cable adjustment ring. That thing is awesome. Really. Now it's easy to dial in just the right amount of throttle cable tension to synch the throttle bodies at high speed. And so easy to synch down the jam nut so that it doesn't loosen or move the adjustment ring. So simple, but so elegant.

Happy trails,
Elia 02 R1150RS
---
Marc,
I finally used the balancer for the front wheel of my RT. After the shop installed the tire I had a vibration at about 75 mph. I used your product and found almost a half ounce too much weight approx 40 degrees off. After 15 minutes with your balancer it is smooth as glass.

Thanks,
Tom
---
Marc,
Used you balancer for the first time this weekend. Just wanted to let you know that it worked like a charm. Thanks for making these.
Scott (R1100S)
---
Marc,
Got your balancer and it works great. In a matter of minutes I had both wheels balanced.

BMWMAN who posts on the www2.i-bmw.com site
---
Hello Marc,
As promised, I am sending some pictures of the balancer in use on the GL1800 rear wheel. It functioned perfectly. I had just had the tires mounted and balanced the week before by my Honda dealer, so this would be a good check. It turns out your balancer is more precise than theirs. They were 1/4 ounce off. Not enough to make any difference in riding, but nice to know yours is more accurate. Please feel free to use or forward any of the pictures as you see fit. Thanks for a great product.

Chuck
---